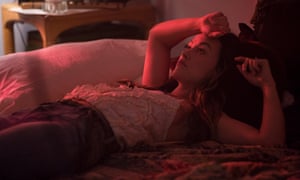 Heavy weather ... Devon (Olivia Wilde) is miserable at the Chelsea Hotel. Photograph: HBO
What's also better this week is that Richie's antics are leading somewhere; there's more movement to the plot and depth to the relationships. Holed up in the Chelsea Hotel with Ingrid (Birgitte Hjort Sørensen, showing some real warmth in a show that tends to lack it), Devon makes heavy weather of her lot in life ("Day after day in that house, I hear this creaking back and forth. It's the sound of me hanging myself from the rafters.")
During the course of his career, he overcame numerous personal trials. His early arrests for obscenity (all of which were
dismissed)
and struggle to overcome his self-described "heavy drug use" were the most publicized. But in the '80s he also
weathered
serious tax problems, a heart attack and two open-heart surgeries.
「dismissed」的搜尋結果
Also in This Week's Book Review
By MOLLY HASKELL
Reviewed by ARMOND WHITE
Molly Haskell's feminist perspective comes to the rescue of "Gone With the Wind," a film most academics won't touch and current critics dismiss.
IBM sued by Chinese employee - Unfair dismissal claimed
IT Examiner - Banglore,Karnataka,India
By Subhankar Kundu @ 23 June 2008 09:00 :: :: 0 Comments :: Category - Unusual In yet another
IBM
contract labour dispute,
IBM
China was accused of
...


antics
plural noun

/

ˈæn.tɪks

/ /

-t̬ɪks

/

funny, silly or strange behaviour

古怪而可笑的舉動;噱頭

But the rock-star whose stage antics used to include smashing guitars is older and wiser now.

這個搖滾歌星以前常耍諸如摔碎吉他之類的噱頭,但是隨著年齡增長,他現在變得理性多了。

The crowds were once again entertained by the number one tennis player's antics on and off the court.

這位頭號網球運動員在場上場下做的滑稽動作再次把觀眾逗得開懷不已。
dismiss
(END JOB)
verb
[T
often
passive]
to remove someone from their job, especially because they have done something wrong:
He has been dismissed from his job for incompetence.
dismissal
[C
or
U]
when an employer officially makes someone leave their job:
unfair/wrongful dismissal
dismiss
(FORGET)
Show phonetics
verb
[T]
to decide that something or someone is not important and not worth considering:
I think he'd dismissed me as an idiot within five minutes of meeting me.
Let's not just dismiss the idea before we've even thought about it.
Just dismiss those thoughts from your mind - they're crazy and not worth thinking about.
dismissal
Show phonetics
noun
[U]
dismissive
Show phonetics
adjective
He's so dismissive of anybody else's suggestions.
a dismissive attitude
dismiss
(SEND AWAY)
verb
[T]
1
to formally ask or order someone to leave:
The teacher dismissed the class early because she had a meeting.
2
When a judge dismisses a court case, he or she formally stops the trial, often because there is not enough proof of someone's guilt:
The defending lawyer asked that the charge against his client be dismissed.
dis・miss
-->
━━
vt.
免職[解雇・放校]する ((from)) (Dismiss! 解散; Class ~ed! 授業おしまい); 去らせる ((from)); 退ける; (念頭から)忘れる ((as, from)); 【クリケット】アウトにする; 【法】却下する.
dis・miss・al
 ━━
n.
解散, 解雇; 【法】却下.
weather
(DEAL WITH)
verb
[T]
to deal successfully with a difficult situation or a problem:
As a small new company they did well to weather the recession.